If you've heard about Stellar Lumens and you're wondering where you can buy some, this guide is for you.
First Step: Buy Bitcoin or Ethereum
You cannot currently buy Stellar with USD directly. You will first need to buy either Bitcoin or Ethereum and then use that to buy your Lumens. It is rumoured that they will have USD to XLM pairings in the near future, and I will be sure to update this guide when that is an option.
In the US, you can buy Bitcoin and Ethereum from many different places. I recommend Coinbase as the safest way to buy Bitcoin and Ethereum [read more here]. You used to be able to buy it with a credit card and it would be counted as a purchase (great for airline miles!) but they recently changed it to a Cash Advance which has many extra fees. UPDATE: All major credit card companies have banned the purchase of Crypto altogether. So, the only option is to do an ACH transfer. Coinbase is slowly rolling out instant ACH purchases, but they are not available to everyone yet.
If you sign up at Coinbase using my link you will receive a free $10 in Bitcoin once you purchase at least $100 of any coin they sell. So, yay free money!
Second Step: Send Your BTC or ETH to an Exchange
Once you get some Bitcoin or Ethereum, you have to send it to an exchange where you can trade it to buy your Stellar Lumens. I recommend using Binance to buy Stellar [follow this link and then click "create account" in the very middle of the screen].
The main reason I love Stellar so much is that it is so cheap to withdraw! On Binance, it only costs .01 Lumen to transfer any amount to your personal wallet. This is crazy cheap compared to almost every other currency.
To get your BTC or ETH to Binance, you should use GDAX to save on fees. Coinbase charges high fees to send your crypto to Binance, but if you use their exchange, GDAX, you can send your BTC or ETH with NO FEES. [Read the guide]
Third Step: Buy Your Lumens
Once you get your crypto loaded into Binance, it's time to buy some Stellar. Click on "exchange" in the upper left-hand corner of Binance and then select "basic."

From here, you will go to either the BTC/XLM pair or the ETH/XLM pair.  On the right side of the screen, select BTC, then type in XLM to quickly find the pair you need. Click on the highlighted pair so that you can buy your Stellar. (You can do the same thing with ETH, just use the ETH tab instead.)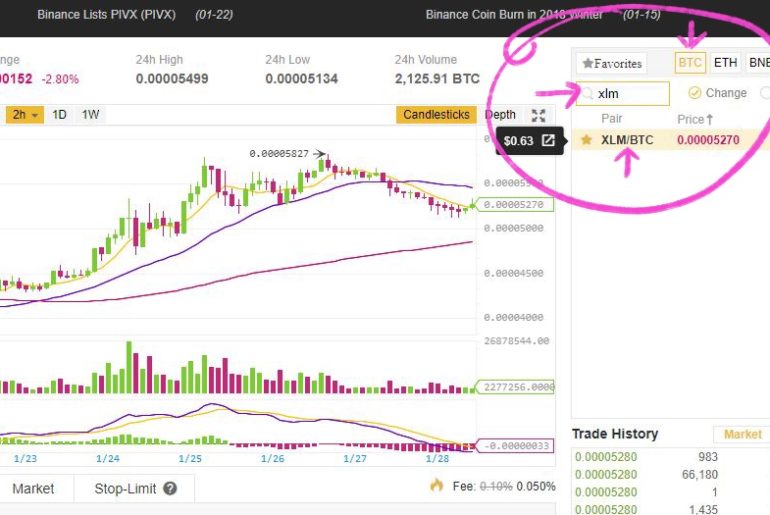 To buy your Lumens, you can use either the Limit or Market rate. Just click on "Buy" and your trade will be initiated. That's it! You now have some Stellar Lumens.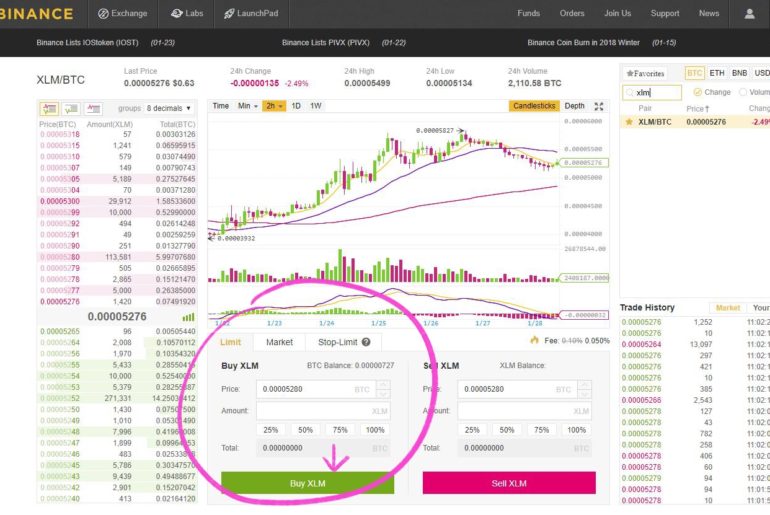 If you have any questions, be sure to let me know in the comments below.
Follow me on twitter @thecoinpixie